The crypto market slid by 4.89% to $1.05 trillion in the last 24 hours since our last next cryptocurrency to explode post. In that time, the market's trade volume reached $37.97 billion. That is a 45.94% increase from the last day.
The decentralized finance sector made a trading volume worth $3.02 billion. It accounted for 7.96% of the total market volume in the last 24 hours. Whereas, stablecoins traded deals worth $35.63 billion that accounted for 93.84% of the market's trade volume in the last 24 hours.
Bitcoin's market dominance rose by 0.74% in the last 24 hours too. Its market dominance is now at 47.38%.
The global economy is giving mixed reactions as the US and Asian stock markets are making significant gains while the Eurozone has slid into a recession. 
The crypto market is fighting hard to get back up against the background of the SEC's new lawsuit against Binance.US and Coinbase. Analysts linked the new matter based on unregistered securities with the Commission's ongoing lawsuit against Ripple. If Ripple comes out victorious, then it will add a new dimension to the new suit and the Commission might be fighting a losing battle.
The Next Cryptocurrency To Explode
Despite the current instability, there are different categories of crypto assets gaining investors' attention and driving the market. Some are assets in their presale phase and are not in any way affected by the market's condition. Others are resilient tokens that have gained investors' confidence over the years. Some others are opportunity tokens that investors are eagerly buying the dip.
These are the categories of our next cryptocurrency to explode, and those conditions make them so.
1. AiDoge (AI)
When PEPE exploded, a lot of memecoin lovers predicted that SHIB was probably on its way out of popularity. But another brilliant token has come to take the spotlight. Since the launch of its presale, AiDoge has received a lot of attention and love from the market. Investors acknowledge it as the next cryptocurrency to explode.
Some other memecoins, we must say, have been whetting investors' appetite before now but AiDoge is the real deal. The token will finally launch on the 19th of June and it has already shown signs of the next big cryptocurrency to explode. As a matter of fact, some analysts say it will grow 100 times not too long in the future.
The AiDoge coin has generated a lot of buzz as the launch approaches. The project was able to sell out $14.9 million of its presale in about one month. On top of that, it has been able to amass a following of over 36,000 on Twitter while there are over 20,000 people subscribed to its Telegram space.
[embedded content]
One of the reasons behind AiDoge's popularity is that it has been positioned as not just another or a regular memecoin. It is a memecoin with a lot of utility as much as it incorporates generative artificial intelligence. Whereas, the push into artificial intelligence is the most trendy thing in the crypto world right now.
The AiDoge team is working on a generative artificial intelligence algorithm that will help users generate viral memes. Users will only have to describe whichever meme they need in detail. AiDoge will then swing into action and deliver what they want. The entire process takes a few seconds and it does not require users to have any skills.
The platform equally makes it very easy for users to mint their memes into NFTs. With that, once a new meme becomes viral, everybody gets to know who made it. 
But before anyone can make memes on AiDoge, they to be holders of the platform's native token, AI. Holders can use the token to buy the needed credit to make their memes. They can also stake the token to earn rewards every day. Staking helps to make sure that users can make as many memes as they need while the AiDoge network is secure and investors can invest for the long term.
AiDoge's presale is sold out already but investors still have an opportunity to get their hands on some before the launch date. It comes at the listing price of $0.0000336.
2. Launchpad XYZ (LPX)
Launchpad XYZ is another upcoming crypto asset shaking the market. It is the next cryptocurrency to explode because its ICO is one of the big events the crypto market is looking forward to this year. The project's goal is to aid investors make informed business decisions when investing in the Web3 space.
The Launchpad XYZ is making way for brilliant choices via its user-centric dashboard. It is where the platform brings important data such as the market's pulse about different crypto assets together.
The platform's native crypto asset has been enjoying a wonderful presale outing as it sells at $0.0445. It gives a lot of potential to grow with its listing price set at $0.0565.
GM everyone ! Market is still in ping pong mode : $BTC $26.2k> $26.7k ; $ETH $1825>$1860 . Range is contracting which usually means we get a strong breakout. Liquidity low all around so now is the time to protect capital.

— Launchpad.xyz (@launchpadlpx) June 9, 2023
The platform has a unique alert system that updates users about important events such as new cryptocurrency ICOs, NFTs, and P-2-E games. It also gives updates about other important projects.
LPX holders who stake at least 10,000 units will enjoy certain benefits like early access to P-2-E games and lower decentralized exchange trading fees. These benefits that accrue to LPX holders are valid for the staking period. They essentially underline the utility of having LPX.
The Launchpad XYZ platform has the capacity to deliver on its promise to offer data in real-time. It also empowers users to identify new and upcoming opportunities in the market.
Investors who haven't got Launchpad XYZ can do so today to secure their place in the next big cryptocurrency to explode.
Visit Launchpad XYZ.
3. yPredict (YPRED)
yPredict is next and it is the next cryptocurrency to explode and the best asset to buy this year. It has been leading discussions in the market with its presale and the high-tech cryptocurrency analytics it offers. It has a smooth user interface, and its system has extensive research abilities.
The Platform uses artificial intelligence technologies like Natural Language Processing, and it was developed by a team who makes sure it offers reliable information.
While on presale, its native currency, YPRED sells for $0.09. It will, however, rise by 33.3% to sell at $0.12 when it gets to the last stage of the presale. The presale already garnered much attention and has helped the project raise more than $2.2 million.  
[embedded content]
yPredict has a hard cap of $6.5 million as it offers a 50% TGE release for its presale. The project's developers built a predictive system that utilized financial mathematics. It offers an estimate of the entire market trend, as well as particular crypto data. This goes a long way in giving users the much-needed advantage with regard to making investment decisions.
The project's whitepaper points to it being a source of passive income for investors. This is achieved through staking YPRED, the network's native token. It comes with up to 10% distribution for new subscribers.
The team promises credibility and transparency with its KYC verification. The smart contract also underwent a special audit.
YPRED is the best asset to buy now as it is the next big cryptocurrency to explode. Investors are encouraged to join the train.
4. Avalanche (AVAX)
Avalanche has experienced a measure of bearishness in the last few weeks but at this point, it has become the next big cryptocurrency to explode. The asset, AVAX, got ejected from the $17.50 level then bears got a chance to exercise price control. But the price managed to rise by 0.5% n the last 24 hours to show that it would be on its way up at any moment. 
Avalanche has a technical perspective on its daily chart that gives an advantage to bears. The chart shows that there is low AVAX accumulation and demand at this time. This indicates that there is low purchasing power.
It should be noted that the recent price volatility that affected all assets in the market also added to AVAX's travails. It looks like Bitcoin has to rise above $26,000 before altcoins like AVAX can rise above their resistance.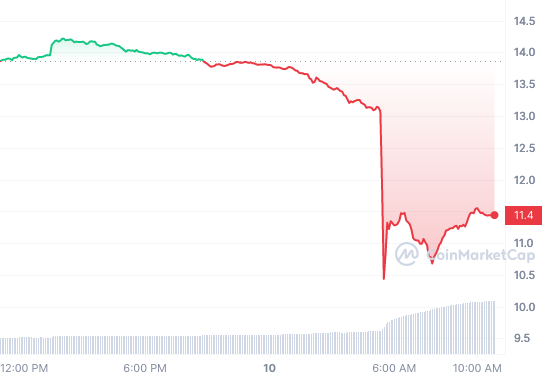 AVAX is trading near a critical level now. Its market capitalization also fell because of the low purchasing power it experiences. This was especially seen between the end of April and May. Its relative strength index shows that traders hold a lot of price control since the index was maintained and showed a declining trend.
Furthermore, the price dropped under the 20-day simple moving average. That goes to indicate that sellers drove the price. If the price tries to rise above $14 now, it will require demand to return to the market.
Currently selling at $11.41, this is the best time for investors to buy the AVAX dip. According to market strategy, token accumulation is best done at times like before the price is driven higher.
Investors should go visit eToro to secure their spot before the next AVAX price jump. It is the next cryptocurrency to explode.
5. ApeCoin (APE)
ApeCoin is looking like the next cryptocurrency to explode. It currently sells at $2.34 having been affected by the poor market tide. 
The coin captured the attention of the crypto market when it first launched in the market. The Yuga Labs product soared exponentially it gave the feeling that it was the only asset investors were interested in. Recent events, however, seem to have overtaken it and brought the asset down for a while.  
Although some APE investors find themselves in the red zone for now, the future looks bright for the market-shaking coin. The APE community is enthusiastically looking ahead to the token's recovery soon. As opposed to what might have happened to less vibrant tokens, investor confidence in ApeCoin keeps growing stronger. There are, therefore, no questions about its sustainability in the long term.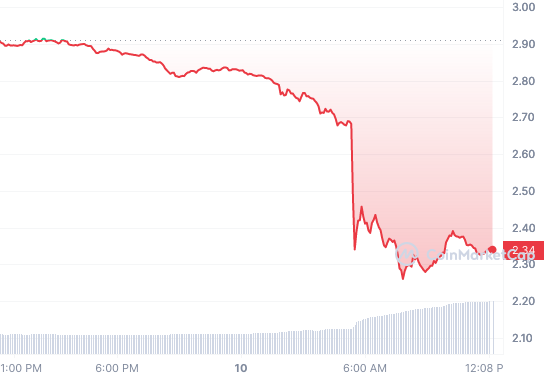 But despite the challenges APE has faced, whales have not lost any interest in it and it offers a lot of hope for new investors. Whales hold a substantial amount of any token and they sustain it when its price encounters challenges. As APE whales hold the asset up, they leave the door open for new investors to come.
As it is the best time to buy crypto, and any asset for that matter, when their prices go low, it is perfect to buy APE now. The confidence of whales in holding on to their APE tokens should resonate through the market soon and have others buying at a higher rate. Investors who wish to buy the APE token early enough should visit eToro.
6. Neo (NEO)
The Neo network is one of the projects that gained a lot of attention when it launched. It is the next big cryptocurrency to explode as soon as the general crypto market's dark moment blows away. NEO, its native cryptocurrency, rose to as high as $197 at the asset's peak. 
NEO's core is in its blockchain algorithm as it is used for all the network's transactions. Services on the blockchain include applications, games, financial services, and a lot more. All these services are built directly on the platform.
As a digital asset built on the blockchain, NEO lets developers work on smart contracts. They also get to automatically execute assignments using certain conditions.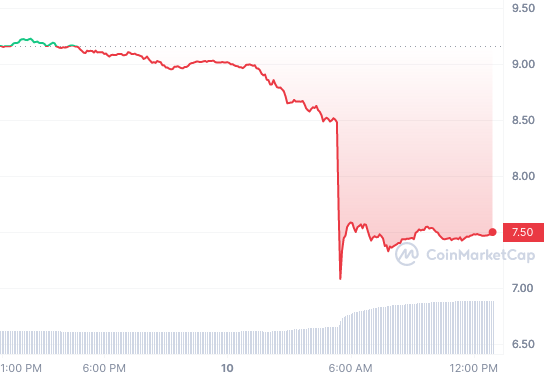 Having gone through different stages of evolution and developmental strategies, NEO decided to stick with its plan of constantly upgrading its protocol. This will help to make sure that the network has improved utility, functionality, and security among others. 
The Neo community has a vision for its native token that stands firm. With its footprint in the technological space, the NEO token nurtures convenience and hope for its users. This will make their lives way easier in the end.
One of the superpowers of the Neo network is that it can handle demand spikes seamlessly. So it is able to take on new investors, as well as old investors who wish to increase their holdings. Buy the next cryptocurrency to explode at eToro. 
7. Bitcoin (BTC)
Bitcoin is challenging its 3-month low as the day opened. Its pressure became intensified in the midst of the SEC-induced market turmoil.
Reports from CoinMarketCap show BTC trading at $25,67 today. Although Bitcoin shows some weakness at this point, it does not share the fate of many altcoins. Some of them got delisted from major exchanges on account of the SEC's crackdown. Bitcoin's ability not to get too ruffled by crisis makes it the next cryptocurrency to explode.
The Robinhood trading app said it was going to take away its support for the crypto assets mentioned in the SEC's lawsuit involving Binance.US and Coinbase. The platform said it regularly carries out a review of the assets it offers. It finalized by saying that based on Robinhood's latest review, it is cutting support off from Polygon, Cardano, and Solana.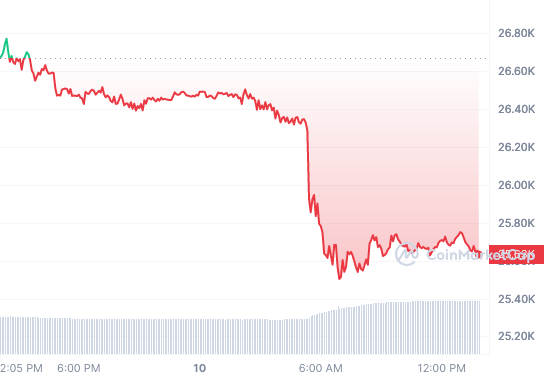 The SEC event resonated heavily across the crypto market and affected market capitalization. Analysts say if the crypto market loses its 200 weekly moving average, it might begin to communicate a bear market sign. Bitcoin has its moving average line standing close to $26,400. 
It is expected that Bitcoin will start its ascent before most assets in the market. Especially altcoins. It's the next big cryptocurrency to explode as investors don't require much motivation to invest in Bitcoin. It is simply what it is; the king coin. Buy Bitcoin on eToro.
8. Cardano (ADA)
Cardano is one of the many crypto assets affected by the recent US SEC crackdown on crypto exchanges. This caused significant losses to investors in a matter of days. It looks to the untrained eye that the current market trajectory does not show reassurance for a trend reversal anytime soon.
In the midst of the panic, Cardano holders largely maintained calm over their assets as they are sure of the token's stability. It comes as no surprise to seasoned investors that Cardano has many prospects ahead. An undisputable attribute of the next cryptocurrency to explode.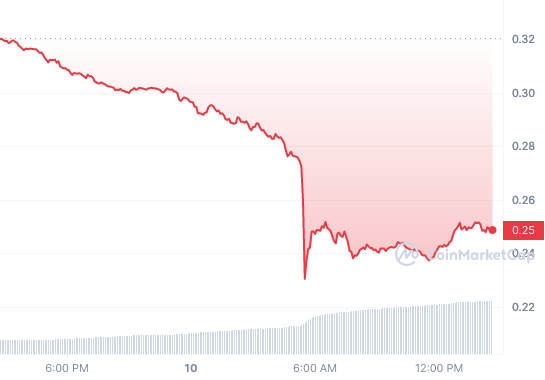 The latest development gets the field ready for bears to take over Cardano. Recent reports highlight the importance of this market slide. It is a momentum shift and it will have effects on Cardano's rebound.
When the asset's price broke through its important support zone, bears began to have an upper hand and they dictated the market's movement. Especially on long-term investments.
Keeping the price low by this means makes it possible for more investors to come into the Cardano network. Bulls tried to the token's price higher in May but bears were yet to consolidate their gains. It is predicted there will be another bullish push to bolster ADA's price sometime this month.
Investors who are low on funds should take advantage of the bearish control to increase their ADA stakes or get in on the network afresh. Visit eToro to actualize this.
9. Shiba Inu (SHIB)
There has been an unexpected development as a crypto whale moved a substantial amount of SHIB tokens. It is coinciding with the massive movement in the market and the drop in SHIB's market price like most others.
Whale Alert recently reported that trillions of SHIB tokens valued at several million dollars were moved from the Shiba Staking pool into the Binance crypto exchange.
While the current turbulence goes on, the latest SHIB movement has been traced to an individual. This individual investor moved over 4 million SHIB tokens worth $31.7 million into a wallet in Binance. While the transfer was done, SHIB was trading at about $0.00000792. It was a drop from its height of $0.00000872 last week.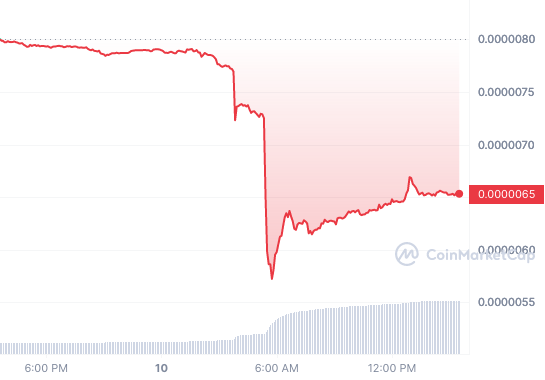 SHIB now sells at $0.00000735 and it shows a 6.73% fall within the last 24 hours. This price movement beckons more investors to invest in the popular memecoin. SHIB holders have various categories from those who enjoy some profit to those who are breaking even.
According to analysis, up to 69% of SHIB holders have held it for more than a year, whereas 28% have had it for less than 1 year. And importantly, about 3% of SHIB holders joined the network in the last month. This shows that the Shib Army is growing steadily. One thing can make it so; investor confidence.
With this clearly stated, it is evident that the future holds a lot of rich prospects for SHIB investors. Investors should look at eToro for ways to secure some future benefits through the SHIB token.
Read More
Wall Street Memes – Next Big Crypto
Early Access Presale Live Now
Established Community of Stocks & Crypto Traders
Featured on BeInCrypto, Bitcoinist, Yahoo Finance
Rated Best Crypto to Buy Now In Meme Coin Sector
Team Behind OpenSea NFT Collection – Wall St Bulls
Tweets Replied to by Elon Musk