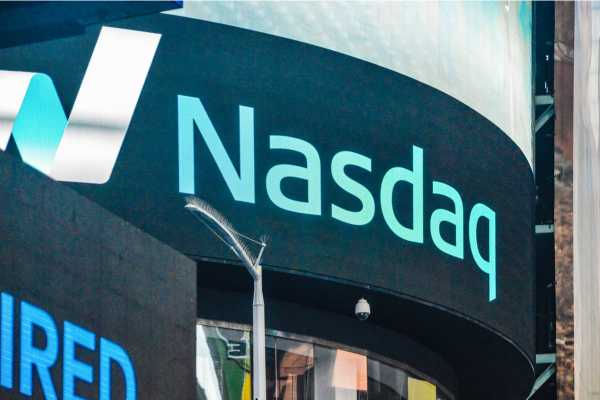 Overview
US stock index futures are pointing to a positive start on Tuesday, following the S&P 500 and Nasdaq Composite reaching their highest closes since April 2022. Investor attention is now on the release of May's consumer price index (CPI) later today. In after-hours trading, Oracle shares surged 4% after the company exceeded Wall Street's expectations for its fiscal fourth quarter. The company reported adjusted earnings of $1.67 per share on revenue of $13.84 billion.
At 08:19 GMT, Dow futures are trading 34407.00, up 18.00 or +0.05%. S&P 500 Index futures are at 4397.50, up 9.50 or +0.22% and Nasdaq Composite futures are trading 15062.25, up 75.50 or +0.50%.
Monthly US Nasdaq 100
Investors Optimistic as Fed Meets
Investors remain optimistic that the Federal Reserve will refrain from raising interest rates during its ongoing policy meeting. Monday's session saw the S&P 500 climb 0.93%, the Nasdaq Composite surge 1.53%, and the Dow Jones Industrial Average add 189.55 points, or 0.56%.
Crucial May CPI Report Anticipated
The eagerly awaited May CPI report, set to be released at 12:30 GMT today, holds significant importance in determining whether the slowdown in price increases will convince Federal Reserve officials to pause interest rate hikes and foster stability in the US economy. Economists surveyed by Dow Jones predict a 0.1% month-over-month increase in prices. This compares to a 0.4% rise in April, with an anticipated 4% jump on an annual basis.
Inflation Decline Encouraging
The expected year-over-year decline in inflation rates is encouraging to market analysts. The projected headline number of 0.1% for the previous month indicates a noteworthy improvement. This suggests inflation is moving in the right direction. Excluding the volatile food and energy components, the CPI is forecasted to rise by 0.4% and 5.3%, respectively.
CPI Report to Impact Fed Policy
The upcoming May CPI report will provide valuable insights into the direction of inflation. It will also play a crucial role in shaping the decision-making process of Federal Reserve officials regarding interest rates.
If the report reveals positive findings, it is likely to reinforce the belief on Wall Street that inflation is gradually easing. This, in turn, will further solidify expectations of a pause in interest rate hikes, as evidenced by a notable 78% of traders who are betting on a rate pause according to CME Group's FedWatch tool.
However, it is important to note that if the inflation data exceeds expectations and comes in hotter than anticipated, it could disrupt the current expectations and potentially lead to further rate hikes.
Daily Oracle Corp.
Oracle Surging in Pre-Market Trade
In other news, Oracle reported strong fourth-quarter revenue figures and an optimistic outlook for the first quarter, driven by growing demand for its cloud offerings, particularly in the field of artificial intelligence. Oracle's successful expansion into the cloud computing market was bolstered by its acquisition of electronic medical records firm Cerner. The move enhanced its competitiveness against industry giants like Microsoft and Amazon.com.
Stocks Positioned for Postive Start
The major US stock market indexes are positioning themselves for a positive start, focusing on the upcoming CPI report and its potential impact on Federal Reserve decision-making regarding interest rates.