InvestorPlace – Stock Market News, Stock Advice & Trading Tips
While chasing the latest innovation can lead to tremendous gains in the market, investors may be better served with patience, which segues into a discussion of tech stocks with long-term potential. These enterprises might not immediately reward you with life-changing returns. However, if you stay with them long enough, they might pleasantly surprise you.
Fundamentally, investors have much to look forward to, from financial technology (fintech) platforms to artificial intelligence to quantum computing. At the same time, not every company that drops its name in the hat will succeed. Therefore, market participants must choose their top long-term tech stocks carefully.
Nevertheless, you also don't want to miss out on possibly paradigm-shifting opportunities merely because of the fear of failure. On that note, below are compelling tech stocks for long-term investment.
IBM (IBM)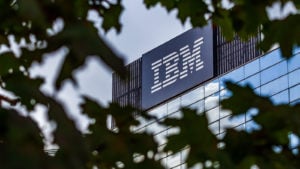 Source: shutterstock.com/LCV
While tech juggernaut IBM (NYSE:IBM) doesn't always get love due to its arguably misplaced staid reputation, as one of the tech stocks with long-term potential, you're not going to find too many superior wagers. True, "Big Blue" may have spent a bit too much time with its legacy business units, but it has since branched into multiple relevant arenas.
Perhaps most noticeably, IBM stands among the top long-term tech stocks thanks to its pioneering work in AI. Initiatives such as IBM Watson not only confirm the power of advanced digitalization in the laboratory but also features a lengthy list of real-world applications. From healthcare to finance to legal to even fantasy football, Watson delivered distinctive utilitarianism.
Also, IBM has an edge over other tech stocks for long-term investment because of its generous forward yield of 4.87%. Significantly, this rate of passive income soars above the tech sector's average yield of 1.37%. While the payout ratio is a bit on the high side at 66.53%, IBM delivers 30 years of consecutive dividend increases.
ASML (ASML)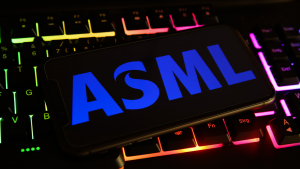 Source: Ralf Liebhold / Shutterstock
Although ASML (NASDAQ:ASML) might not be a household name yet, it likely will be in the future. As semiconductors become more advanced and deliver far more computing capacity per unit of space, they require unique processes. ASML rose to fame because of its extreme ultraviolet (EUV) lithography capabilities. Per CNBC, it's the only company in the world manufacturing lithography machines. That alone makes ASML one of the tech stocks with long-term potential.
Indeed, you can make the argument that the tech sector might grind to a halt without ASML in business. According to CNBC, "EUV lithography is the most expensive step in making the advanced microchips that power data centers, cars, and iPhones." Therefore, ASML enjoys a monopoly on the fabrication of EUV lithography equipment.
Moving forward, tech experts will develop various protocols and platforms utilizing AI, machine learning, and other innovations. However, the common thread will likely be EUV lithography. Therefore, ASML is one of the best long-term tech stocks to buy.
Microsoft (MSFT)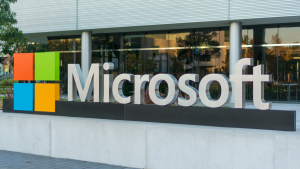 Source: Asif Islam / Shutterstock.com
If you're looking for tech stocks with long-term potential, Microsoft (NASDAQ:MSFT) offers a no-brainer bullish idea. To be blunt, it's almost cheating to bring up MSFT. Thanks to the underlying company's enormously deep and wide relevancies, it's a shoo-in for almost any tech-related investment discussion. Unsurprisingly, even with the Nasdaq Composite index shooting up nearly 30% year-to-date, MSFT outflanks it at 38.5% up.
Right now, MSFT represents one of the long-game tech stocks thanks to Microsoft's partnership with OpenAI, the creator of the popular chatbot ChatGPT. Having used ChatGPT myself, it can be quite a powerful tool depending on the context of the information you're seeking.
Referencing more objective data, Grand View Research points out that the global chatbot market size reached a valuation of $5.13 billion last year. Experts there project that the underlying segment will expand at a compound annual growth rate (CAGR) of 23.3% from 2023 to 2030. At the culmination of the forecast period, the segment should ring up revenue of $27.3 billion.
As I said, MSFT makes a great case for top long-term tech stocks.
Alphabet (GOOG, GOOGL)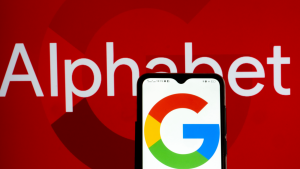 Source: IgorGolovniov / Shutterstock.com
The tech juggernaut that modern society can't live without, Alphabet (NASDAQ:GOOG, NASDAQ:GOOGL) sparked controversies over the years because of its outsized influence. However, those controversies in a roundabout way undergird the reason why GOOG ranks among the tech stocks with long-term potential. Thanks to Alphabet's massive Google ecosystem, it's difficult to function outside of it.
Put bluntly, Google owns the world (well, maybe not Japan, which prefers Yahoo for some reason). And therefore, we're guests in its home, whether we like it or not (and many of us don't). Looking at this narrative agnostically, though, GOOGL makes an excellent case for tech stocks for long-term investment. This magnitude of power and influence will be difficult to usurp.
To be fair, Microsoft's ChatGPT partnership on paper presents significant competition to the Google ecosystem. However, in the long run, I think Alphabet will be fine. For one thing, the company's working on its own chatbot called Bard. Also, Google offers an arguably unprecedented platform for human-driven research, something that might not go away entirely given AI's mistakes.
PayPal (PYPL)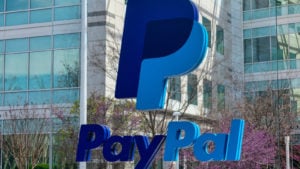 Source: Michael Vi / Shutterstock.com
A major winner during the worst of the Covid-19 crisis, the collective quarantining benefitted digital payment processor and financial technology (fintech) specialist PayPal (NASDAQ:PYPL). Sadly, the wheels started to come off in late 2021, leading to devastation throughout most of 2022. Competitive concerns along with consumer economy woes put the hurt on PYPL stock.
Nevertheless, PYPL may still rank among the tech stocks with long-term potential. A possible saving grace for the long haul could originate from the burgeoning gig economy. Statista points out that the projected gross volume of the gig economy could hit $455.2 billion by the end of 2023. By 2028, this arena of freelancers (i.e. independent contractors) globally could hit $918.94 billion.
Fundamentally, corporate employers may start recalling their workers, which means the gig economy could see increased expansion. Therefore, PayPal is ideally positioned in large part to its intuitive platform and brand power. This makes PYPL an excellent speculative candidate for tech stocks for long-term investment.
IonQ (IONQ)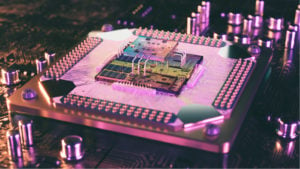 Source: Amin Van / Shutterstock.com
Providing something for everyone, the final two ideas for tech stocks with long-term potential are incredibly risky, beginning with IonQ (NYSE:IONQ). Based in College Park, Maryland, IonQ is a quantum computing hardware and software company. Per its public profile, the entity seeks to develop a general-purpose trapped ion quantum computer and software to generate, optimize, and execute quantum circuits.
According to McKinsey & Company, "[q]uantum computing is a new approach to calculation that uses principles of fundamental physics to solve extremely complex problems very quickly." Leveraging an entirely fresh paradigm, quantum computers can operate exponentially faster than the most advanced "classical" computers.
Given the possibility of utterly disrupting the innovation ecosystem, IONQ represents a speculative favorite among the best long-term tech stocks. Since the beginning of this year, shares have already skyrocketed to nearly 205%. Enticingly, though, the recent consolidation pattern may be setting up a bullish flag formation, suggesting even more gains ahead.
FormFactor (FORM)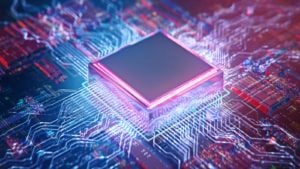 Source: Shutterstock
Based in Livermore, California, FormFactor (NASDAQ:FORM) is a leading provider of essential test and measurement technologies along the full integrated circuit life cycle. This specialty encompasses characterization, modeling, and reliability tests. As well, it includes de-bugging, qualification, and production tests, making it an integral component of tech stocks with long-term potential.
For the latest innovations in computing technologies, FormFactor offers a range of cryogenic test and measurement solutions to quantum engineers. Thanks to its underlying applicability, FORM stock gained nearly 42% of its equity value since the start of the year. However, it's a lesser-known entity among quantum-based long-game tech stocks, losing about 14% of value in the trailing year.
At the same time, the red ink may present a discounted opportunity. After all, Precedence Research projects that by 2030, the global quantum computing sector value might hit $125 billion. Featuring a market capitalization of $2.4 billion, FormFactor enjoys a burgeoning total addressable market.
On the date of publication, Josh Enomoto did not have (either directly or indirectly) any positions in the securities mentioned in this article. The opinions expressed in this article are those of the writer, subject to the InvestorPlace.com Publishing Guidelines.
A former senior business analyst for Sony Electronics, Josh Enomoto has helped broker major contracts with Fortune Global 500 companies. Over the past several years, he has delivered unique, critical insights for the investment markets, as well as various other industries including legal, construction management, and healthcare.
More From InvestorPlace
The post 7 Tech Stocks Playing the Long Game appeared first on InvestorPlace.