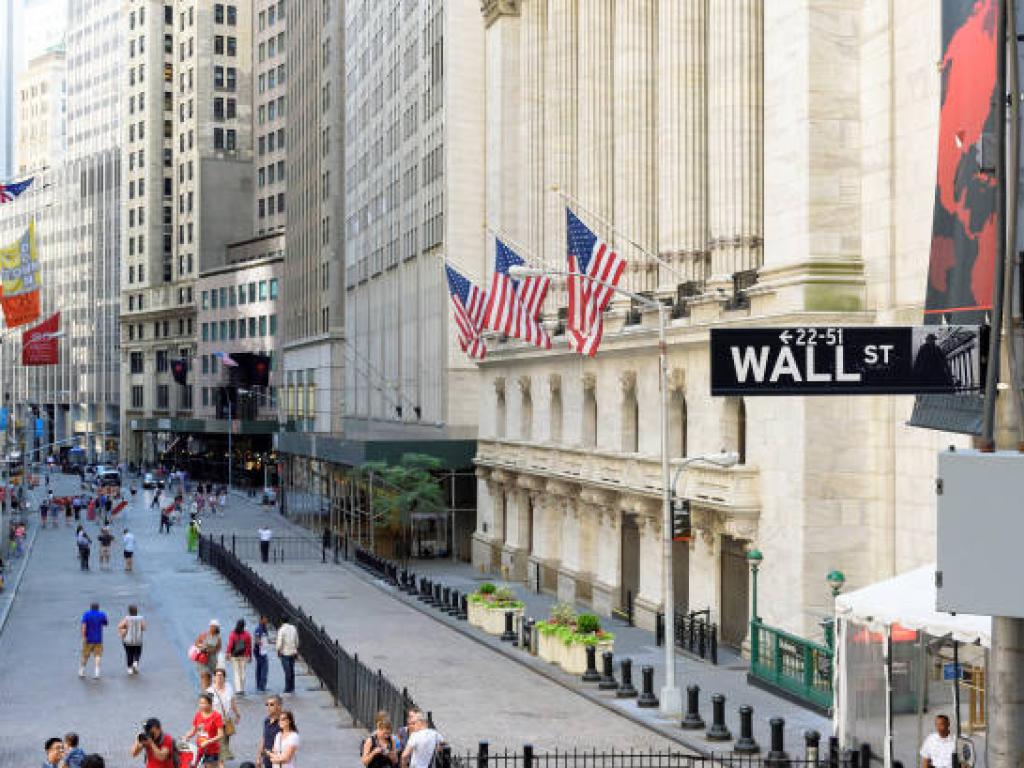 U.S. stocks traded higher this morning, with the Dow Jones gaining around 200 points on Monday.
Following the market opening Monday, the Dow traded up 0.59% to 34,069.23 while the NASDAQ rose 0.65% to 11,793.71. The S&P 500 also rose, gaining, 0.52% to 4,111.69.
Check This Out: Top 5 Health Care Stocks That Could Blast Off This Month
Leading and Lagging Sectors
Information technology shares rose by 1.1% on Monday. Meanwhile, top gainers in the sector included Fastly, Inc. (NYSE:FSLY), up 21%, and Diebold Nixdorf, Incorporated (NYSE:DBD), up 12%.
In trading on Monday, energy shares dipped by 1.1%.
Top Headline
TreeHouse Foods Inc (NYSE:THS) reported mixed results for its fourth quarter.
The company posted quarterly sales growth of 22% year-on-year to $996.20 million, missing the consensus of $1.02 billion. Adjusted EPS of $0.98 beat the analyst consensus of $0.92.
Equities Trading UP
Ocular Therapeutix, Inc. (NASDAQ:OCUL) shares shot up 28% to $4.95 after the company announced interim 10-month data from an ongoing U.S. Phase 1 clinical trial evaluating OTX-TKI for the treatment of wet AMD.
Shares of Fastly, Inc. (NYSE:FSLY) got a boost, shooting 22% to $12.05 after B of A Securities upgraded the stock from Underperform to Buy and raised its price target from $10.50 to $16.
COMSovereign Holding Corp. (NASDAQ:COMS) shares were also up, gaining 17% to $5.10 after the company announced an 80% year-over-year reduction of outstanding secured debt.
Equities Trading DOWN
Frequency Therapeutics, Inc. (NASDAQ:FREQ) shares tumbled 79% to $0.83 after the company said its FX-322-208 study failed to meet primary endpoint, showing no significant separation in speech perception between FX-322 and placebo.
Shares of G1 Therapeutics, Inc. (NASDAQ:GTHX) were down 53% to $3.3350 after the company announced it will discontinue its PRESERVE 1 colorectal trial.
United Insurance Holdings Corp. (NASDAQ:UIHC) was down, falling 34% to $1.3450. United Insurance Holdings recently announced the sale of its Florida personal lines renewal rights to Slide Insurance, Inc.
Also Check This Out: Benzinga's Most Accurate Analysts Say Hold These 3 Real Estate Stocks Delivering High-Dividend Yields
Commodities
In commodity news, oil traded down 0.4% to $79.38 while gold traded down 0.4% at $1,867.10.
Silver traded down 0.3% to $22.02 on Monday while copper rose 1% to $4.0560.
Euro zone
European shares were higher today. The eurozone's STOXX 600 gained 0.7%, London's FTSE 100 rose 0.6% while Spain's IBEX 35 Index rose 0.8%. The German DAX climbed 0.6% French CAC 40 surged 0.9% and Italy's FTSE MIB Index rose 0.5%.
The European Commission increased the growth outlook for this year to 0.9% in the 20 countries using the euro, up from 0.3% expected last November. Headline inflation in the Euro zone is expected to decline to 5.6% in 2023 compared to 8.4% in 2022, according to the European Commission.
Asia Pacific Markets
Asian markets closed mostly lower on Monday, with Japan's Nikkei 225 dropping 0.88%, Hong Kong's Hang Seng Index dropping 0.12% and China's Shanghai Composite Index gaining 0.72%. India's S&P BSE Sensex slipped 0.4%.
Singapore's non-oil domestic exports climbed by 3% year-over-year in 2022, versus a 12.1% increase in 2021. Singapore's GDP grew by 2.1% from a year ago in Q4 versus the flash figure of 2.2%.
Economics
There were no major US economic releases Monday.
Now Read This: Fox, MGM Resorts And 3 Other Stocks Insiders Are Selling
COVID-19 Update
The U.S. has the highest number of coronavirus cases and deaths in the world, reporting a total of 104,766,850 cases with around 1,140,010 deaths. India confirmed a total of at least 44,684,200 cases and 530,750 deaths, while France reported over 39,564,780 COVID-19 cases with 164,530 deaths. In total, there were at least 677,609,790 cases of COVID-19 worldwide with more than 6,782,460 deaths.