Estimated read time: 4-5
minutes
SALT LAKE CITY — Diana Huth and a choir of 20 people proudly sang the Ukrainian anthem and another Ukrainian song on the steps of the state Capitol Saturday to honor those still fighting in Ukraine.
"I'm here to support my country, to support the cause," Huth said. Originally from Ukraine, Huth has lived in Utah for the last nine years.
Huth was one of more than 300 people who gathered at the state Capitol in a rally for Ukraine, commemorating the one-year mark of the Russia-Ukraine war, which started on Feb. 24, 2022.
Huth said at the beginning of the invasion, people cared a lot about the plight of Ukraine. But as months passed, many people seem to have lost interest.
"Support for Ukraine is important because we are defending our democracy," Huth said. "It's important for Americans to know that we are fighting for your ideals."
Huth said it is important for Utahns to continue to support Ukraine and be educated about who they are voting for in government.
Michael Mower from the Utah Governor's Office and Franz Kolb, Utah director of international trade and diplomacy, read a declaration from Gov. Spencer Cox at the rally. It designated Friday as Peace for Ukraine Day in Utah.
The declaration recognized the atrocities, casualties and difficulties in Ukraine and said Ukrainians have "inspired the world with their extraordinary courage dedication and commitment to freedom."
"Utahns stand in solidarity with the people of Ukraine by sending assistance and help for the people of Ukraine. Whereas the state of Utah is the state of inclusion and a beacon of hope for those seeking refuge," the declaration said.
A spokeswoman for Sen. Mitt Romney read a letter in his behalf urging Utahns to support Ukraine and offering comfort to Ukrainians in Utah.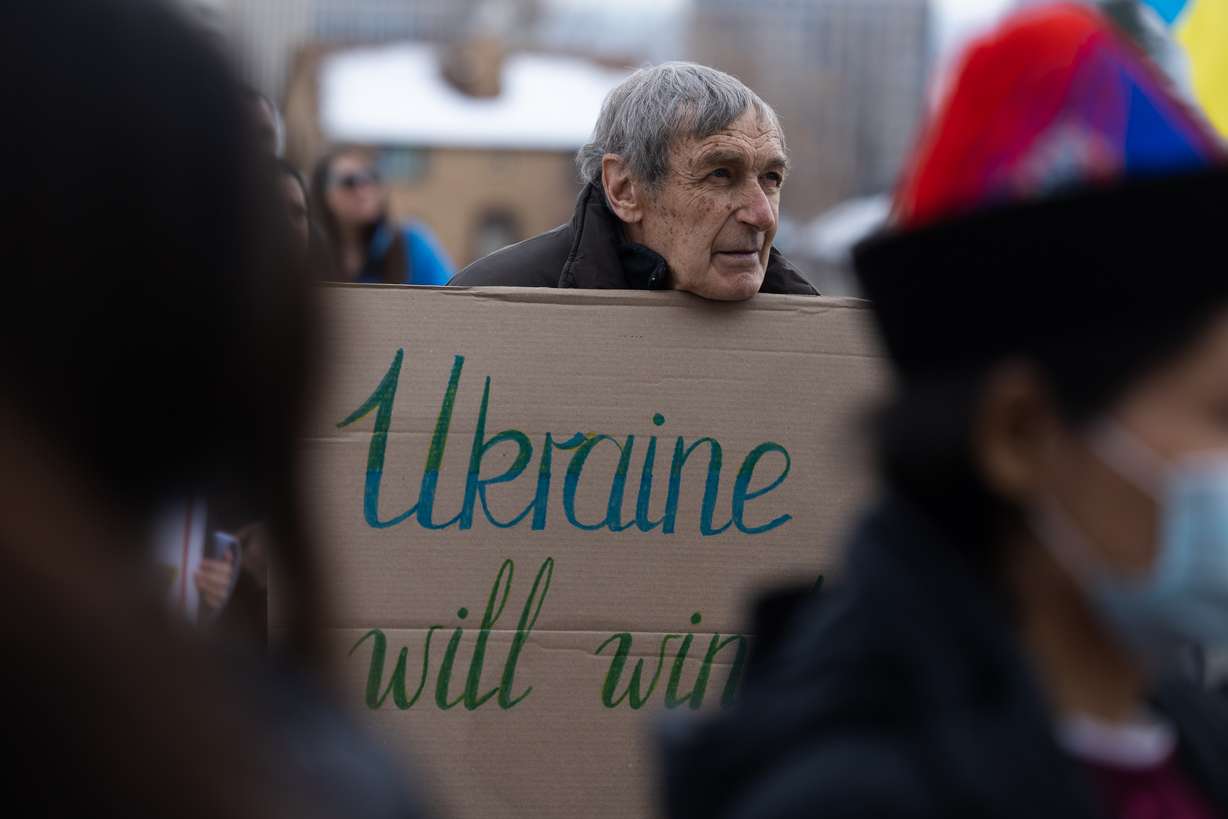 "On this one year anniversary, I want to applaud the extraordinary courage of the Ukrainian people who have galvanized the entire world to stand together to support freedom in the face of tyranny," the letter said.
Romney pointed out how this conflict is "one of the greatest demonstrations of good versus evil we have seen in our lifetimes." He acknowledged Ukrainians' bravery and resolve in defending themselves and defending liberty against Russian President Vladimir "Putin's murderous campaign" and "immoral invasion."
"To have freedom, it requires people to stand up and protect it. Ukraine's victory is our victory," Romney said in the letter. The senator supported President Joe Biden's recent decision to visit Ukraine and said it was "the right thing to do."
Speakers from charities and nonprofits spoke at the rally about the medical supplies, blankets, mattresses, and other aid they have gathered in Utah and distributed to those in need in Ukraine. They shared stories of the people impacted by this aid and how grateful Ukrainians are for the people around the world who are uniting on their behalf.
The songs "Impossible Dream," "The Prayer" and a Ukrainian song were performed by local singers and a 365-second moment of silence was held in honor of Ukraine's year of fighting.
Baldomero Lago, honorary consul of Spain for the state of Utah and president of the Utah Consular Corps, spoke on behalf of Jonathan Freedman, the honorary consul of Ukraine who is traveling back from Asia.
Lago said the Utah Consular Corps is united in supporting Ukraine and the prime minister of Spain has committed to providing resources to Ukraine.
"I want you to know that as Europe and other nations join together, Ukraine will prevail," Lago said. "We are here and committed to support all of you and your wonderful nation."
Jason Stout was living in Ukraine when Russia invaded so he and his family fled to Utah. He is the founder of the community organization No Poor Among Them and partnered with the Responsibility Foundation to provide aid for the people of Ukraine.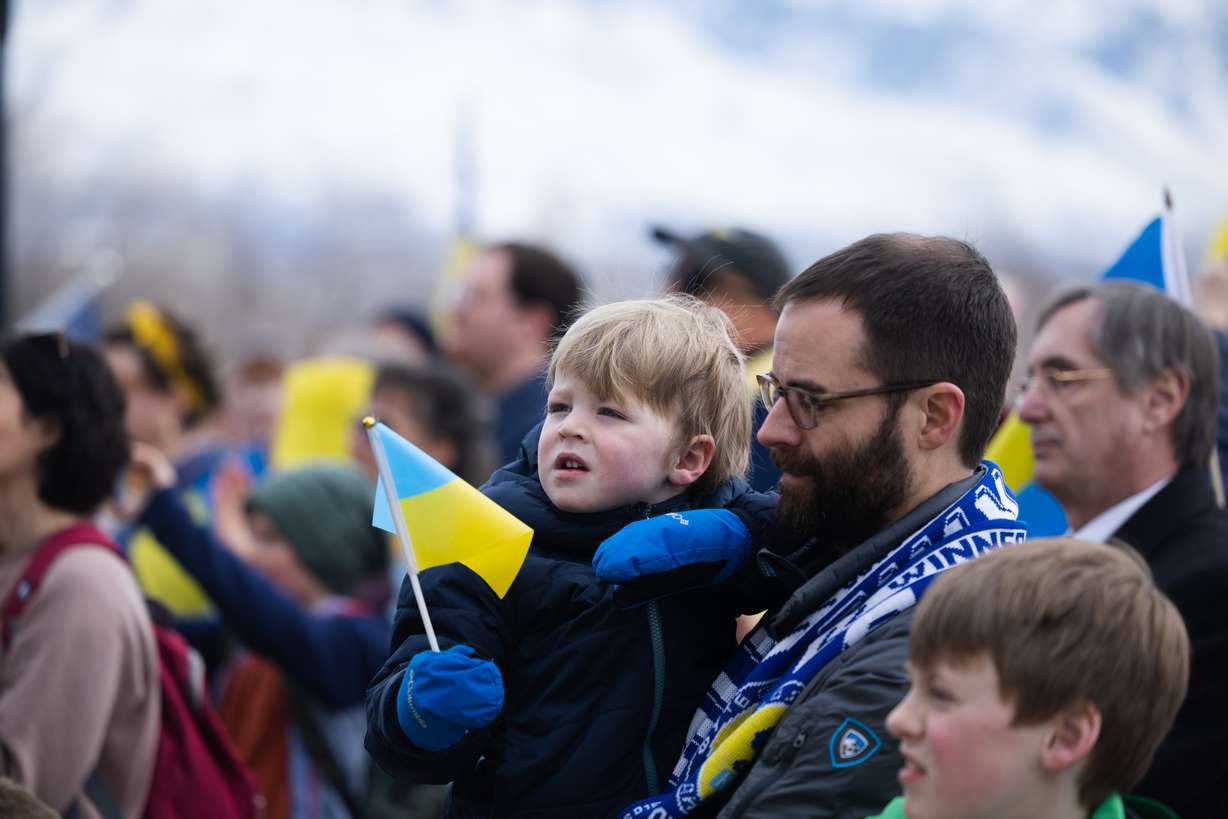 He gave a powerful, emotional speech detailing the heroes in Ukraine who died to protect others and the sacrifices countless others made in order to get food, money, and supplies to those on the frontlines.
"The Ukrainian people are standing firm," Stout said. "They wipe their tears and rise again with each new day — 365 days in a row."
He said every single person has a reason to care about Ukraine and a "moral obligation to help." Stout said it is the right thing to do and the smart thing to do, to fight back against Russia.
"Ukraine has given the world a master class in what it means to fight for freedom," Stout said.
×
Photos
Most recent Russia-Ukraine stories
More stories you may be interested in