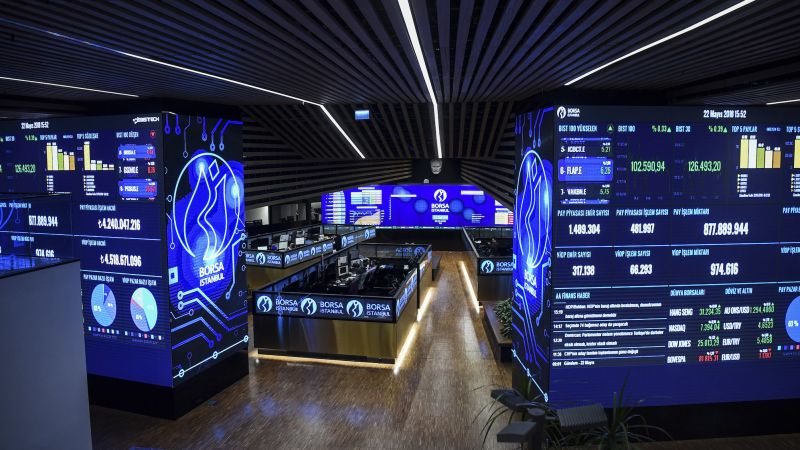 Turkey's stock market has sunk 15% in the three days since a devastating earthquake hit parts of the country's south, piling further pain onto an already fragile economy.
Trading on Istanbul's stock exchange was halted Wednesday after the main index dropped 7% in early dealing, according to Turkey's Central Securities Depository.
The suspension came after the exchange attempted to restore calm by issuing two circuit breakers — a temporary stop in trading to stem panic-selling.
A spokesperson for the exchange did not immediately respond to CNN's request for comment.
Early Monday morning, a 7.8-magnitude earthquake rocked parts of southern Turkey and northern Syria, claiming more than 9,500 lives so far. It is the strongest to hit Turkey since 1939, when an earthquake of the same magnitude killed 30,000 people, according to the United States Geological Survey.
The disaster arrived hit at a time when Turkey is battling economic crises on several fronts. Annual consumer price inflation peaked at 85.5% in October, before falling back. But in January prices were still a whopping 57.7% higher than in the same month a year before, according to the Turkish Statistical Institute.
While Turkey's economy is exposed to the same forces of global inflation as other countries, President Recep Tayyip Erdogan's unorthodox economic policies have aggravated the crisis.
Since September 2021, Turkey's central bank has cut interest rates as prices have risen, while most of the rest of the world has been increasing rates rapidly to tame inflation.
Last month, the World Bank said it expected Turkey's economy to grow 2.7% this year, down from 4.7% in 2022.