Investors should brace for the S&P 500 index
SPX,
-0.88%
to keep oscillating in the 3,700-to- 4,300 range, as it has been for more than a year, according to strategists at the Wells Fargo Investment Institute.
Technology stocks may be enjoying a big bounce to kick off 2023, with the Nasdaq Composite Index
COMP,
-1.02%
up almost 12.6% on the year through Thursday, even with this week's pullback.
But that doesn't mean investors should hold their breath for a sustained stock-market rally, according to a Wells Institute team led by Chris Haverland, global equity strategist.
While it has been unusual for the S&P 500 to be stuck in roughly the same range for nearly a year (see chart), according to the team, they also said the stock market isn't yet giving an "all-clear signal" for a sustained push higher.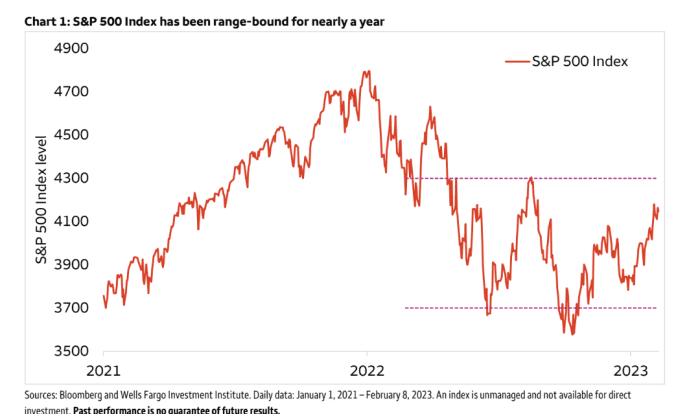 Instead, they point to a continued "disconnect" between the market's view on where rates are headed and what has been outlined by the Federal Reserve.
"The Fed has communicated that the peak in rates is near, but, for a year now, equity markets consistently have extrapolated this message to mean that rate cuts are soon coming," the team wrote, in a Thursday client note.
"Inflation past its peak only encourages this view among investors. But a slower rate of interest rate increases — or even a pause — is not the same as rate cuts."
Furthermore, sharp rate increases and wage growth have been "eroding earnings for the S&P 500 index as a whole," they wrote. But they also think analyst expectations for earnings remain too optimistic, and see a "short and moderate" recession in 2023 as likely, followed by an economic recovery by year-end.
"To that point, our year-end S&P 500 index price target remains 4,300-4,500," they said.
The S&P 500 closed down 0.9% on Thursday at 4,081.50, after stocks gave up earlier gains. The Dow Jones Industrial Average
DJIA,
-0.73%
closed down 0.7%, while the Nasdaq Composite shed 1%, according to FactSet.