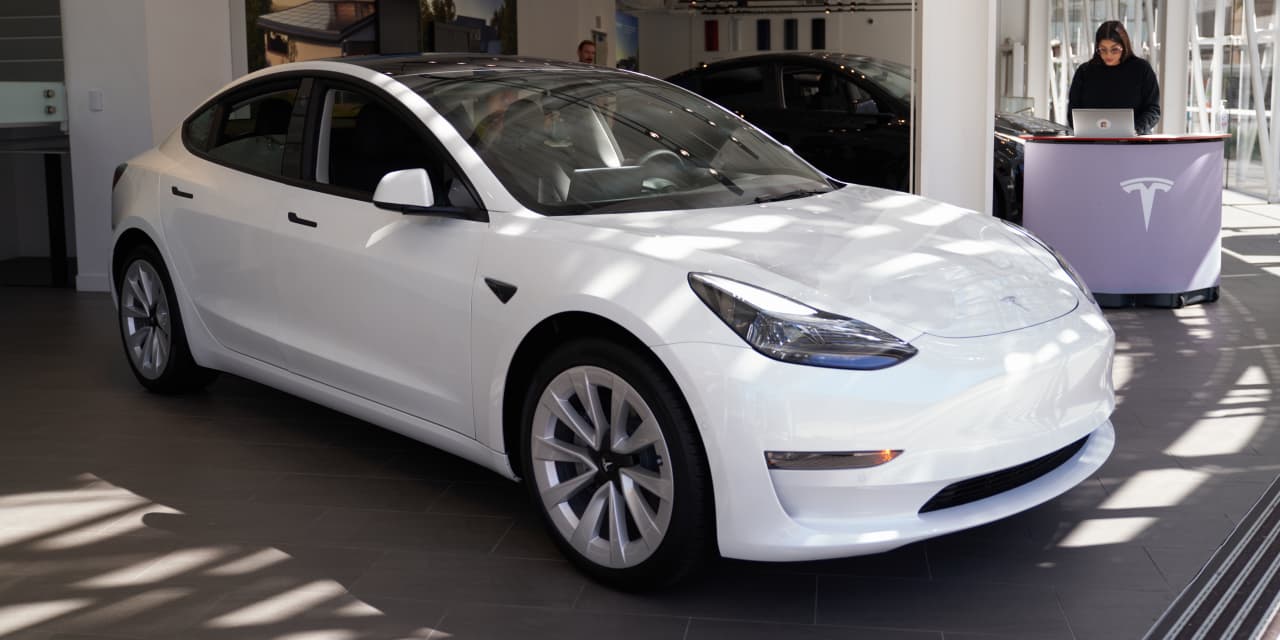 Investors have been piling into Tesla Inc.'s stock as it rallies toward a seven-month high and a ninth straight gain, which would be its longest streak in more than two years.
Helping fuel optimism was the news that all of the electric-vehicle giant's lower-priced Model 3 sedans now qualify for $7,500 in federal tax credits as part of the Inflation Reduction Act, likely because of changes Tesla made to battery components. Previously only the company's base models qualified for tax credits, and only of $3,750.
The stock charged up 4.2% in morning trading Wednesday to the highest intraday price seen during regular-session hours since Nov. 1, 2022.
The stock has soared 26.1% over the past nine days. The daily gains during the current streak have ranged from 0.86% to 4.72%, according to FactSet data.
If the stock closes higher on Wednesday, the nine-day winning streak would be the longest since the 11-day streak that ended Jan. 8, 2021. Since that 11-day streak, there have been three eight-day streaks, which ended in March 2022, July 2022 and February 2023.
Meanwhile, shares of other EV makers were mixed. Rivian Automotive Inc.'s
RIVN,
-3.10%
stock seesawed to a 1% gain, Nikola Corp.
NKLA,
+6.24%
shares climbed 5% and Lucid Group Inc.
LCID,
-5.87%
shares fell 0.7%.
Among Tesla's China-based competitors, shares of Nio Inc.
NIO,
-1.40%
edged up 0.4%, shares of XPeng Inc.
XPEV,
-2.60%
shed 1.1% and shares of Li Auto Inc.
LI,
-0.16%
gained 1.4%.
Year to date, Tesla's stock has soared 87.2%, while the S&P Global X Autonomous and Electric Vehicles exchange-traded fund
DRIV,
-0.26%
has rallied 26.1% and the S&P 500
SPX,
-0.30%
has advanced 11.8%.
Some Wall Street analysts have expressed concern that the S&P 500's gain this year was a result of strength concentrated in a narrow group of eight large-capitalization technology stocks: Tesla, Alphabet Inc.
GOOGL,
-3.51%,
Amazon.com Inc.
AMZN,
-3.41%,
Apple Inc.
AAPL,
-0.74%,
Meta Platforms Inc.
META,
-1.62%,
Microsoft Corp.
MSFT,
-2.87%,
Netflix Inc.
NFLX,
+0.76%
and Nvidia Corp.
NVDA,
-1.28%.
That group of eight tech giants now accounts for more than 30% of the total market cap of the S&P 500's components, up from 22% at the start of the year, according to data provided by Gail Dudack, chief investment strategist at Dudack Research Group.
That helps explain why the S&P 500 Equal Weighted Index, which weights each component the same, has gained just 2% while the market-cap-weighted S&P 500 has climbed 11.8%.
"These are not impressive breadth statistics," Dudack said. While experience suggests this narrow leadership may last longer than many expect, Dudack warned against chasing the market's rally.