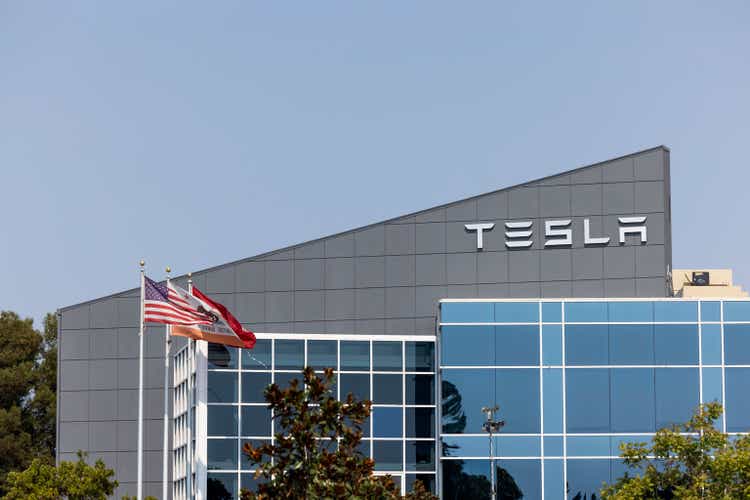 Tesla (NASDAQ:TSLA) will hold an Investor Day event on March 1 in what could be one of the key days of the year for the electric vehicle giant. The event will be live streamed from the Gigafactory Texas site and is expected to include discussion on Tesla's long term expansion plans, generation 3 platform, and capital allocation. A tour of the Austin factory will be included for those in attendance in person. Naturally, analysts are buzzing over what Elon Musk and gang will highlight at the event. The automaker's "generation 3 platform" is anticipated to lead to cheaper electric vehicles in the future, although it is unclear if a new mass-market model will be unveiled. The tease about capital allocation has some investors focused details of a stock buyback plan.
The third part of Tesla's Master Plan (following Part 1 in 2006 and Part 2 in 2016) will be a major part of the event. The next-gen Tesla Roadster, Cybertruck, new vehicle platform, autonomous driving applications, energy storage initiatives, charging network revenue potential, and Tesla robot could all be woven into the master plan. Evercore ISI analyst Chris McNally expects to hear about robotaxis, shared rides to reduce driving miles, megapack batteries, and recycling targets. For its part, Oppenheimer thinks Tesla (TSLA) may be more granular with the Investor Day talk and delve into cost reduction efforts, manufacturing efficiency, progress on new products like a low-cost passenger vehicle and Semi, along with a more fulsome update on FSD. Meanwhile, Bernstein thinks the Analyst Day is likely to provide some incremental details on the next-gen vehicle platform, but noted it is unclear that Tesla will be able to adequately address the concern of bears around timing. Goldman Sachs expects CEO Elon Musk to discuss in broad strokes what is needed for the world to transition to sustainable energy. Other key topics are anticipated to be FSD, the Optimus robot, financial drivers, including EBIT margins/opex leverage capital allocation, and energy storage. "We expect the transition to sustainable energy and the outlook for Tesla's Energy segment to be one of the most prominent parts of the event," previewed the firm. Of note, Tesla has said that the total addressable market for energy could be larger than automotive, and the company is in the process of ramping a 40 GWh Megafactory in Lathrop California for its utility scale Megapack product.
For investors, shares of Tesla have a track record of rallying in front of a publicized event and trading back down after the reveals. Seeking Alpha contributor Jonathan Weber thinks any developments surfacing from Tesla's Investor Day may present mixed results for EV competitors Lucid Group (LCID) and BYD Company (OTCPK:BYDDF). The Tesla event could have broad implications for the electric vehicle sector as a whole, including stocks such as Fisker (FSR), Canoo (GOEV), Nio (NIO), Li Auto (LI), XPeng (XPEV), Polestar (PSNY), General Motors (GM), Ford (F), Rivian Automotive (RIVN), and Lordstown Motors (RIDE).
Read all the latest breakdowns on Tesla from Seeking Alpha contributors.