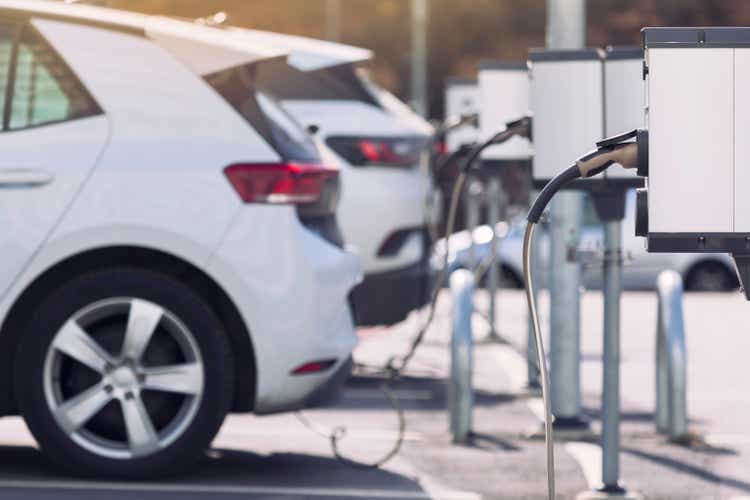 Thesis
BYD Company Limited (OTCPK:BYDDF) has a vertically integrated business model with the majority of critical components (batteries, auto semis) made in-house. Its very broad product portfolio, in contrast to Tesla Inc. (TSLA) and many other automakers, as well as its laser focus on product design, serves as the base for my thesis. I apply a 2x FY23 EV/S multiple to my FY23E nominal revenue estimate and reach a upside value for BYD stock of $55.
Watch out Tesla
From relatively humble origins when it was founded 30 years ago to produce batteries for cell phones and digital cameras, BYD Company Limited has emerged in recent years as a powerhouse in electric vehicles ("EVs"), mostly for the Chinese market but now in the early stages of penetrating several international markets (Norway, Australia, Japan, Israel, Sweden, Germany, Singapore). In 2Q22, BYDDF dethroned Tesla as the global #1 EV maker, not just in China but globally, by delivering 353,420 EVs during the quarter despite major headwinds caused by the Covid-19 outbreak in China, ahead of Tesla's 254,695. Its triple-digit unit growth is likely to continue in the second half of 2022, and I expect solid growth to continue beyond 2022, driven by BYDDF's broadest product portfolio in the industry across all price points and its product design prowess, which has consistently produced cars tailored to Chinese consumers' taste and desires.
Vertically integrated business model
One of the most fundamental differentiators for BYD Company Limited is its vertically integrated business model. Unlike nearly all its peers, BYDDF produces its own EV batteries, perhaps unsurprising given the company's heritage in the field. In addition, BYDDF makes about 70% of the semis used in its EVs in-house and relies on outside vendors mainly for the higher-end chips such as autonomous driving chips (from Nvidia).
This vertically integrated model, which is not the industry standard, has helped BYD Company resolve much of the supply chain disruption caused by Covid better than competitors. BYD has even branched out into lithium mines in order to secure enough raw materials for its batteries, demonstrating its commitment to keeping as much of its supply chain as possible under its own roof. BYD's lesser reliance on outside vendors during Covid has propelled the company to far outgrow its peers, including NIO, XPEV and LI, which are much smaller in scale, in recent quarters.
A trailblazer in China's domestic EV drive
China has one of the most cohesive national policies to promote EV adoption domestically, with aggressive consumer incentives and a well thought out national carbon credit program for EV makers. With the EV penetration rate in China already above 20%, increasingly the focus of EV makers will start to shift to overseas markets. With highly competitive products in both quality and price, Chinese EVs stand a good chance of gaining a major proportion of global markets over time. The fact that China failed to harness the growth of the ICE market makes it even more critical for both its companies and the Chinese government to see some success in EVs, especially outside of China.
BYDDF already has over 33% market share in EVs domestically as of July 2022, and has entered several major overseas markets, including Japan, Germany, Norway, Singapore, and Australia, although international launches are still in the early stages. In my view, it is just a matter of time until BYDDF enters the United States, the world's largest vehicle market.
Blade battery is significantly safer than conventional EV battery and offers better performance
In addition to having a highly talented product design team which is packed with experienced professionals from leading global automakers, strong management and control of the supply chain, enormous manufacturing scale and deep knowhow, BYDDF has a keen focus on the core technologies that enable the company to consistently build industry-leading products. Its latest blade battery is a case in point. EV makers around the world usually use two types of batteries – NCM (for longer range with higher energy density) and LFP (shorter range with lower energy density, but cheaper). As a result of the trade-offs between the two types of batteries, Tesla, for example, decided in 2021 to move all of its China-made EVs and its standard range EVs globally to LFP batteries. Through its internal engineering, BYDDF has developed Blade LFP batteries that seem to have the best of both worlds.
The Blade battery has similar energy density to an NMC battery but is even cheaper than traditional LFP batteries made by competitors. In addition, the unique design and configuration of the Blade battery cell result in much better safety levels, as they can withstand the toughest damage tests such as the nail penetration test. I estimate BYDDF keeps 85-90% of its battery production in-house (inside its own EVs) and channel checks suggest the company may be supplying Tesla's factory in Europe currently. I consider it possible for Tesla to eventually add BYDDF's Blade battery to the supplier list for its Shanghai Mega Factory (where Tesla currently sources batteries from CATL, LG and occasionally Panasonic).
Valuation
I expect sales growth of 75% in FY22 and 34% in FY23, and set a price target for BYDDF of $55; using 2x EV to its 2023 sales. I think this multiple is reasonable when compared to its global and Chinese EV peers and the company's historical multiple.
Final thoughts
Over the last 30 years or so, BYD Company Limited has evolved from making batteries for cell phones and cameras, to providing a full service including design, assembly, and testing to global leading cell phone makers (under BYD Electronics, which is listed on the Shanghai Stock Exchange), to developing and manufacturing cutting edge EV batteries, to supplying auto semiconductors, to becoming the global #1 EV maker in terms of deliveries. The company has proven its execution capabilities and its laser focus on product designs and qualities. I believe BYDDF could emerge as one of the leading Chinese tech companies that will likely have a strong presence on the global stage. I keep a Dec'23 price target of $55 on the company's stock.
Editor's Note: This article discusses one or more securities that do not trade on a major U.S. exchange. Please be aware of the risks associated with these stocks.