Growth or equity oriented schemes witnessed nearly 72 per cent jump in net inflows at Rs 12,546.51 crore in January 2023 as against Rs 7,303.39 crore seen in December 2022. The inflows were recorded in 381 schemes according to a data released by Amfi. Meanwhile, Income or Debt Oriented schemes saw outflows of Rs 10,316.15 crore for January 2023.
The top performer was Small Cap Fund which received a net inflow of Rs 2,255.85 crore. It was followed by Large & Mid Cap fund and Multi Cap fund with inflows at Rs 1,901.99 crore and Rs 1,773.02 crore, respectively.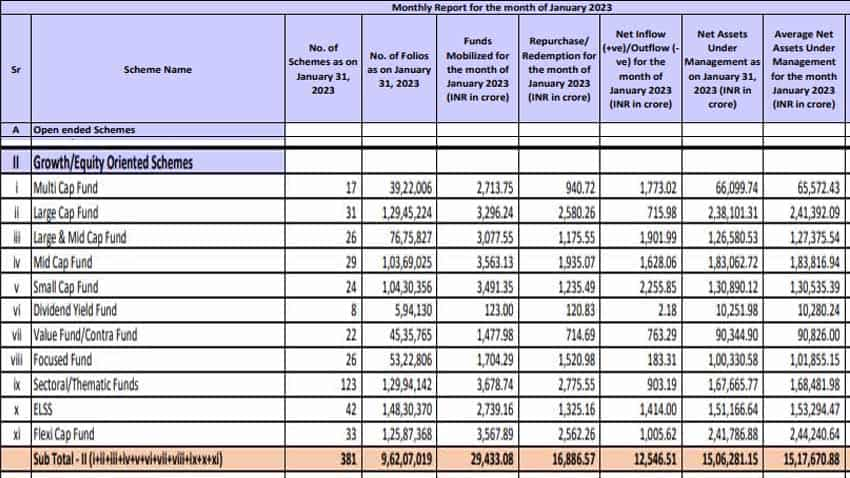 Source: Amfi
In the Debt fund category, the outliers were Money Market Fund and Ultra Short Duration Fund which saw inflow worth Rs 6,459.99 crore and Rs 1,765.14 crore, respectively. The worst performing schemes were Liquid Fund, Short Duration Fund and Overnight Fund with outflows worth Rs 5,041.68 crore, 3,858.73 core and 3,687.90 crore, respectively.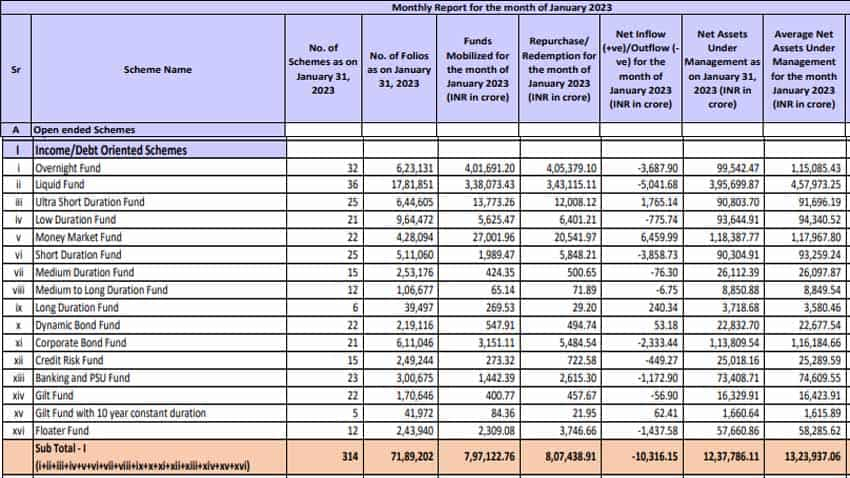 Source: Amfi
Gold ETF Schemes which are a type of open ended schemes witnessed outflows worth Rs 199.43 crore during the month gone by.
Open ended funds are mutual fund schemes which are open for buying and selling at any time. There is no maturity period in such funds, which means that one can remain invested in the scheme for as long as he or she wants.
In the closed ended schemes, the equity oriented schemes saw outflows of Rs 74.92 crore while debt schemes saw inflows of Rs 583.09 crore.
A closed ended mutual fund scheme is where investments are locked-in for certain duration. The issue can be subscribed only at the time of NFO or new fund offer period. Redemption of units can be made only after the expiry of lock-in period.
During the month, 12 new mutual fund schemes were launched which mobilised funds worth Rs 3,571 crore.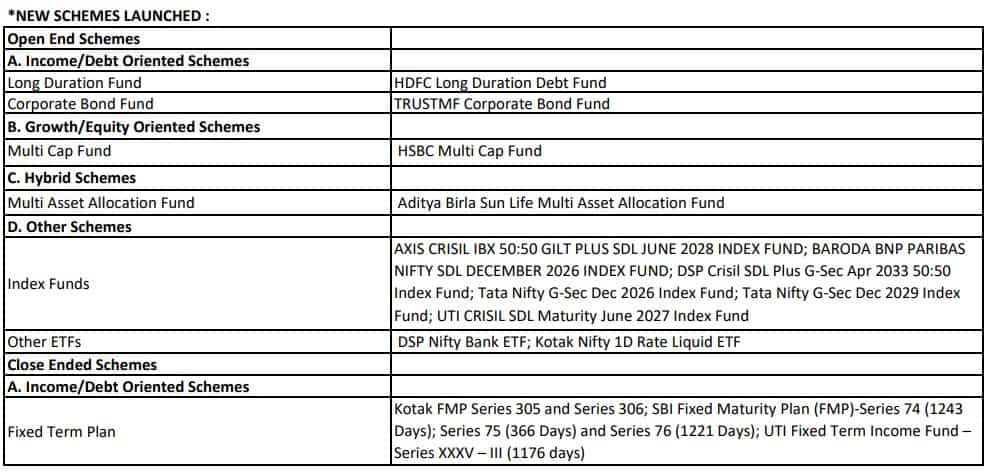 Source: Amfi
The Mutual Fund industry grew by 1 per cent on a monthly basis in Average Assets Under Management (AAUM) to 40.8 lakh crore in January 2023, Gautam Kalia, Senior Vice President and Head, Super Investor at Sharekhan by BNP Paribas said.
The Mutual Fund industry has grown by four times in less than a decade (the industry was 10 lakh crore in May 2014), he said.
"But as interest rates rise, gold prices continue higher and the equity market returns stagnate, there is a real concern that retail clients will lose patience and reallocate resources back to fixed deposits, real estate and gold. It will be interesting to see whether retail clients continue to stay invested and truly buy the long term wealth creation promise of Mutual Funds," Kalia opined.