The Australian sharemarket is set for a lacklustre start this morning as the profit reporting season extends into its second week and global markets brace for a report on inflation in the world's largest economy on Wednesday, which will set the scene for the Federal Reserve's next rate moves.
ASX futures traded unchanged at 7357 over the weekend after the S&P/ASX 200 lost 0.8 per cent on Friday as corporate results weighed on investor sentiment. Companies reporting on Monday include insurance giant IAG, property heavyweight Lendlease, bottle shop owner Endeavour Group and Kerry Stokes-backed gas producer Beach Energy.
On Wall Street, stocks indexes drifted to a mixed finish on Friday, ending the worst week for stocks and bonds this year so far as investors were coming to the grips with the idea that the US central bank may indeed have to keep interest rates higher for longer as it wages a war against inflation.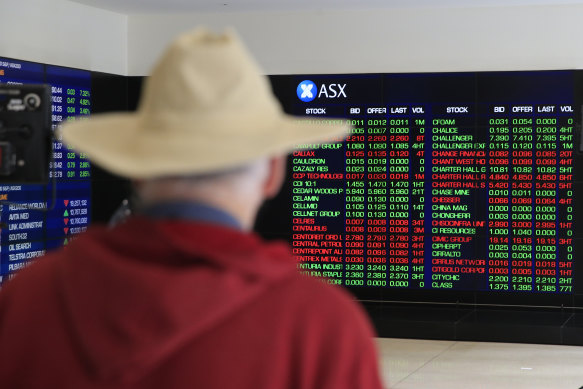 The S&P 500 rose 0.2 per cent, but it still ended the week with a drop of 1.1 per cent. The Dow Jones Industrial Average gained 0.5 per cent, while the Nasdaq composite fell 0.6 per cent.
Wall Street has ramped up bets on the Fed's peak rate to around 5.2 per cent, from under 5 per cent earlier this month, amid a barrage of hawkish remarks from US officials that followed a hot jobs market report. And that's not all. Traders who had been positioning for the central bank to hike only once more are suddenly being confronted with wagers on at least three more increases.
That's why this week's consumer price index is seen as a litmus test for the Fed's ability to thwart inflation amid the most-aggressive tightening cycle in decades. Core CPI will either point to the need to push further into restrictive territory or reflect the progress policymakers have made toward securing the anchor of inflation expectations, said Ian Lyngen at BMO Capital Markets.
"The new year's bullishness has quickly faded as investors recalibrated forward expectations in the wake of the employment report," Lyngen said.
Higher rates can drive down inflation, but they also raise the risk of a recession and drag down investment prices. And central banks around the world are intent on tightening the screws by raising rates further, even if at a slower pace than before.
"The best we can hope for is the Fed not raising rates too high and just being patient, letting them remain at that level for a while to see how things play out," said Yung-Yu Ma, chief investment strategist at BMO Wealth Management.