This article was written by WTOP's news partner InsideNoVa.com and republished with permission. Sign up for InsideNoVa.com's free email subscription today.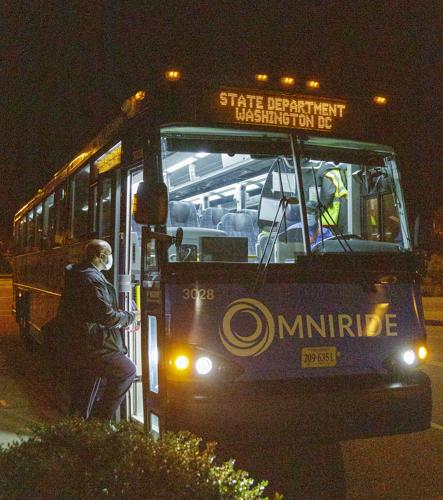 OmniRide bus and paratransit operators went on strike Monday, forcing the system to suspend service on all commuter routes and disrupting some local and Metro express lines.
There will be limited service Tuesday due to the continuing work stoppage. OmniRide Express, OmniRide Metro Express and several local routes will not run in Prince William, Stafford and the Manassas area. Click here for real-time service alerts.
In a press release, Teamsters Local 639 – which represents the drivers – said that about 150 operators went on strike starting at 3 a.m. Monday. The union alleged that Keolis, the private company that operates OmniRide service, was engaging in "unfair labor practice," driving the Teamsters to authorize a strike last week.
"Keolis has been purposefully dragging its feet for six months, refusing to agree to anything at the bargaining table. This is a violation of federal labor law, and our members have no other option but to strike over these violations," Teamsters Local 639 Secretary-Treasurer Bill Davis said in the statement. "Teamsters drivers are proud of the important transportation services they provide to their communities, but they were forced to take action because Keolis hasn't been willing to change its illegal behavior."
The press release did not say what violations were being alleged or what issues are currently being bargained over, but the Teamsters said the two sides have another bargaining session scheduled for Tuesday.
On Monday morning, OmniRide announced that all OmniRide Express commuter routes and the 60 Manassas Metro Express line were suspended. Frequencies on all five local OmniRide routes were reduced, with buses running every 90 minutes.
Keolis took over as OmniRide's service provider in 2020. It also operates Loudoun County Transit, where operators with Amalgamated Transit Union Local 689 have been on strike since January, unable to reach an agreement with the company on a new agreement. Workers there say the company has offered low wages and cut company 401k contributions.
Representatives from Keolis could not immediately be reached for comment. The company also operates Virginia Railway Express service, though those workers are not striking.
On Monday, ATU Local 689 announced a rally outside the Loudoun County government center on Tuesday as a show of solidarity with the OmniRide workers.
"The announcement comes as part of a rising tide of unrest from Keolis workers in Northern Virginia and around the country. Earlier this morning members of Teamsters Local 639 at Keolis Transportation in Prince William County officially began their own strike," the release read. "In light of this, Local 689 stands firmly in solidarity with members of Local 639 and invites the Teamster strikers to join the Union's rally in Leesburg tomorrow in the shared struggle against Keolis' exploitation."