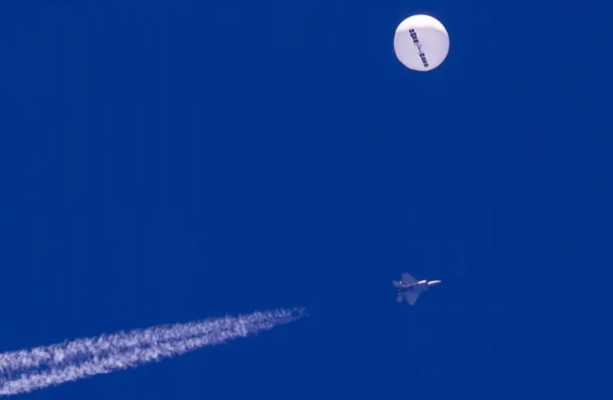 LAST UPDATE
|
43 minutes ago
THE UNITED STATES does not know if unidentified objects shot down by American warplanes in recent days were spying, the White House has said.
"We don't know for sure whether they had a surveillance aspect to them, but we can't rule it out," White House national security spokesman John Kirby said in a press conference.
The White House also said there is no sign of alien activity related to the unidentified objects, after a top US officer declined to rule it out.
"There is no indication of aliens … with these recent takedowns, (I) wanted to make sure that the American people knew that," Press Secretary Karine Jean-Pierre told journalists.
The day before, General Glen VanHerck – the head of the US Northern Command – was asked during a briefing if aliens or extraterrestrials had been ruled out.
"I haven't ruled out anything. At this point, we continue to assess every threat or potential threats unknown that approaches North America with an attempt to identify it," VanHerck said.
This evening's update comes as questions intensitifed today around the unidentified flying objects downed by US Air Force jets over North America in the last few days.
Beijing and Washington have traded accusations over using high-tech balloons to spy on each other.
A US warplane shot down an alleged Chinese surveillance balloon on 4 February and three unidentified objects were downed in subsequent days.
It is not clear whether the three unidentified objects – shot down on Friday over Alaska, on Saturday over Canada and yesterday over Lake Huron – have any connection to a much bigger white balloon that was downed over the Atlantic.
The US military, which tracked that balloon as it crossed much of the country, says it was a sophisticated, high-altitude Chinese spying device – one of a fleet of such craft allegedly floating around the globe.
Recovery teams are scouring the seabed to pull up the debris for analysis.
China insists that the balloon, which was big enough to be visible to ordinary Americans from the ground, was merely blown off course while collecting weather data.
Chinese authorities also admitted that a balloon spotted over Latin America was one of theirs – in this case a civilian device for flight tests.
Today, Beijing sought to turn the tables by accusing Washington of deploying more than 10 balloons into Chinese airspace over the last year.
"It's not uncommon as well for the United States to illegally enter the airspace of other countries," foreign ministry spokesman Wang Wenbin said during a briefing.
The alleged flights were made "without any approval from Chinese authorities".
At the White House, National Security Council spokeswoman Adrienne Watson quickly called China's allegations "false" and said that China's high-altitude spying program has violated airspace of "40 countries across five continents".
The State Department said China was "scrambling to do damage control" and that the communist government "has failed to offer any credible explanations for its intrusion into our airspace".
Over the weekend, Chinese state-affiliated media reported that an unidentified flying object had been spotted off the country's east coast and that the military was preparing to shoot it down.
Beijing today declined to comment on that report, referring journalists to the defense ministry, which did not respond to requests for comment from AFP.
Questions and few answers 
In Washington, the extraordinary events are fueling already intense suspicion about China across both the Democratic and Republican parties – a trend likely to grow as the 2024 presidential election approaches.
The diplomatic fallout has already been substantial, with Secretary of State Antony Blinken abruptly canceling a rare visit to Beijing.
Republican lawmakers today piled pressure on the White House to give answers about the scope and nature of the threat.
"How many more unidentified objects in US airspace before the Biden Administration gives us some – ANY – answers?" tweeted Republican Representative Mark Green.
Officials have issued little information about the three latest objects, other than to say they were much smaller than the confirmed Chinese balloon destroyed 4 February. That was about the size of three buses, while the new targets were more car-sized.
"We're going to do everything we can to recover them," White House spokesman John Kirby told MSNBC today. "As soon as we do that, we'll learn more."
The unidentified flying object shot down yesterday over Michigan was described by officials as an octagonal structure with strings hanging off it. However there was no information about how it was guided or propelled.
Canada's defense minister, Anita Anand, told CNN the object shot down over Canada by a US plane appeared to be "cylindrical" but said no more information would be given until "we gather the debris".
Amid often wild speculation, the US Northern Command's General Glen VanHerck was asked if the government could be sure these were not extraterrestrial craft and he replied: "I haven't ruled out anything at this point."
Why such a sudden spate of sightings is another unanswered question.
Assistant Secretary of Defense for Homeland Defence and Hemispheric Affairs Melissa Dalton said yesterday that this may be because the Pentagon has been "enhancing" its radars – meaning smaller objects are now visible.