view original
post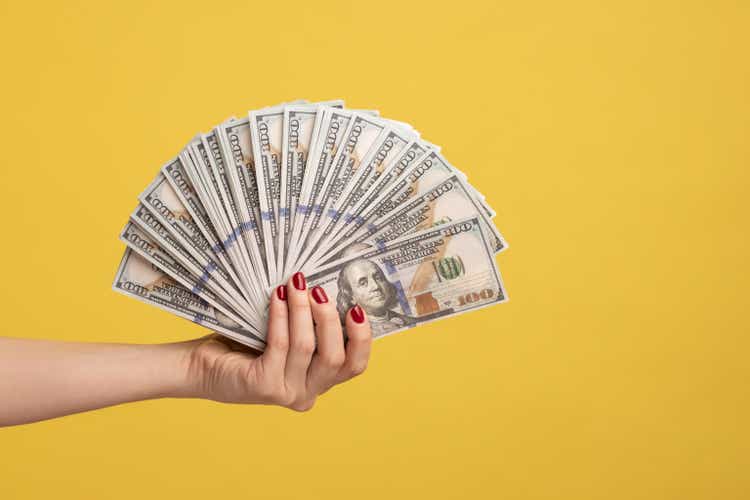 Written by Nick Ackerman. This article was originally published to members of Cash Builder Opportunities on January 21st, 2023.
Of all of our trades expiring worthless in the latest options expiration, Trinity Capital (NASDAQ:TRIN) had a different path to get here. Shares remained under pressure for a while after the announcement that Core Scientific (OTCPK:CORZQ) was going to stop their equipment financing payments and were filing for bankruptcy, which directly impacted TRIN.
TRIN overall has been on quite the wild ride. As I discussed previously, it certainly is one of the more volatile in the BDC space, along with the other venture debt-focused BDCs. These names naturally carry more uncertainty with them.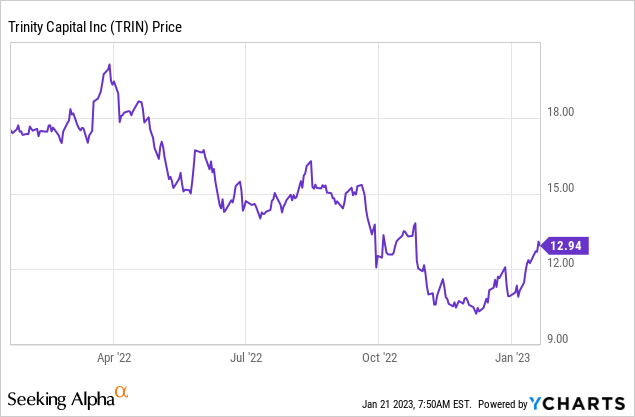 Originally, I sold puts on TRIN on October 27th, 2022. At that time, I had selected the November 18th, 2022, expiration and collected $0.45. $0.45 worked out to a PAR of 59.72% as it was essentially writing puts at-the-money.
With the shares falling below that by a considerable amount to under $11 heading into the expiration, I chose to roll the position. In that case, we kicked the trade out to the January 20th, 2023, expiration. I still selected the same $12.50 strike, so it was simply providing more time for the trade to go in our favor.
The other big factor for rolling out the position was to reduce the breakeven. Previously, the breakeven would have been down to $12.05. By doing this, we collected more option premium that pushed the breakeven down to $11.51.
This was the net result of collecting $0.45 originally, closing that out for $1.53. That put us in the hole at (-$1.08). However, by turning around and selling puts further out, we collected $2.07, bringing us back into the green for $0.99 in net premium and thus reducing our breakeven considerably.
Extending out the trade took the annualized return that was admittedly a juicy ~59% down to a still tempting 23.29%. For investors that jumped on selling these puts, it would have been in-the-money, a risky strategy but one that can pay out in spades. That would have put the PAR for that at ~71% if anyone was brave enough.
Here's the downside of the trade we did, now that shares popped up higher and it expired worthless, we don't have the shares at that breakeven. If we bought shares today, we'd now be looking at the cost of around $13 (where the shares closed the week.) This is where plan B kicked in!
On November 11th, 2022, I nabbed shares outright as shares continued to fall in this BDC. At the cost of $10.97, it meant buying up shares at an even lower price than what our breakeven would be for selling puts. For me, I've already been long shares of TRIN, so this was an opportunity to average down.
Their next earnings are expected to be on March 2nd, 2023. At that time, we should get more color on the whole situation and the exact impact on the BDC and, more specifically, the NAV. My estimate is that NAV could be around $13.15, assuming a complete write-off of CORZ equipment financing. That would be a decline from $13.74, which should mean we are still looking at a discount to the NAV.
However, that discount has narrowed considerably. It's also making the assumption that the rest of its portfolio has remained static, which is unlikely to be the case.
We've had several good signs since my last update, too, that we can be optimistic about.
First, we have the $25 million stock repurchase authorized. Authorization doesn't mean implementation, but it's a nice gesture.
Second, we saw more insiders buying after insiders were already holding significant positions. There were a total of ~44.5k shares picked up in December.
Third, they raised the dividend once again. A smaller increase than they had been, but an increase is an increase. It sends some confidence from management that they aren't going to turn around and cut. At least if they want to retain any shareholder respect. This was the seventh quarterly increase since going public.
That's not all; there was other potential positive news too. They announced a joint venture and received "Exemptive Relief For A Registered Investment Adviser ("RIA")." These two news items don't necessarily have a direct or immediate impact but are two things that could benefit TRIN and the shareholders over time if executed well.
What's Next?
Shares remain attractively priced, in my opinion. That means that I believe very much there is still an opportunity to continue writing puts. More conservative investors would probably favor the $10 strike. However, TRIN, like most BDCs, have fairly limited options volume. So patience, going out on further dates and some luck are required.
At the $12.50 strike price, we see more interest at some reasonably attractive premiums to execute trades. Of course, that means that the 'risk' of assignment here is greater, but I'm ready to jump back in and average down my position further. Additionally, by collecting the premium, we are reducing our potential breakeven. We already know that we've been able to roll our puts if needed.
With that being said, here are a couple of ideas worth exploring for investors interested in picking up shares of this interesting BDC.
February 17th, 2023, expiration premium of $0.30 for the bid, but the last trade was $0.50. The midpoint of $0.40 could be triggered – especially if shares are a bit weaker in the next week. That would work out to a tempting PAR of 43.26%. However, again this is writing puts quite close to the money or at-the-money, so the potential for assignment is high.
If you're into longer-dated put writing, we can go out to April 21st, 2023. That puts us 90 days out, and at the $12.50, we have a large spread between the bid and ask of $0.30 and $1.45, respectively. The last trade was $1.07, so assuming we can get $1, we would be looking at a PAR of 32.44%.